Community Action Partnership of Oregon has personnel available to help meet your media needs. If you are writing or planning a story on poverty in Oregon or a related topic, please contact Claudette Vincent by using our contact form or by phone: (503) 316-3951.
Press Releases
Get state updates and agency news from Oregon Housing and Community Services. Get national Community Action news and press releases from Community Action Partnership (the National Association).
---
Media Kit
---
In the News
Career Tech Students Take on
Whale of a Project for Rose Parade
By Kendall S. Cable, Contributing writer
NEWPORT, OR. It all began with a used golf cart. Then came a metal frame welded by City of Lincoln City Maintenance staff. Next, seven students from Career Tech High School's Woods and Metals Program created a plywood foundation for strategically-placed PVC and chicken wire to rise. Finally, from burlap, rice and thistle breached a whale of local distinction that migrated to Portland's Rose Parade Saturday.
The float, a promotion for Lincoln City's Pixiefest to take place June 24-25 at Chinook Winds Casino and Resort, was helmed by Pixie Captain and Lincoln City Councilor Kip Ward, who intentionally grew a beard for the event, according to Ed Dreistadt, Lincoln City Convention and Visitor Bureau director. The whale, accompanying pixies, and Pixiefest are a nod to Pixie Kitchen and Pixieland – former local establishments which catered to children.
"The Career Tech students saved the day," stated Dreistadt. "We located a used golf cart and the city maintenance staff constructed the brackets for a wood platform to be attached to, but all the rest was courtesy of the Career Tech crew. They designed the platform, the whale, and the waves and then built it all."
For the seven students (Corrie Martin, Jason Miranda, Tyler Rini, Kendra Arns, Cameron Ogle, Levi Huppert, and Jordan Serden), the project was an act of teamwork and patience – 40 hours of patience, according to John Kiser, Career Tech Woods and Metals Program crew leader.
"There wasn't a lot of arguing or head butting with the design process," Kiser said. "Everyone agreed on what we would do and got right to it."
The 14-foot-by-8-foot float was built during Wednesday class time in Schooner Creek Designs' woodshop. Students learned a variety of skills and worked with tools such as sanders and jig saws.
"I think it was a good project for the kids to learn how to use the power tools. It was good for them," Kiser said. "Some of them have not used a sander or jig saw before. It was good hands-on training with those power tools."
Just as important as tools and technique is teamwork, according to one student. From city hall to the students to the community, all made the project possible.
"The best part was working together as a group, teamwork," Miranda stated. "It takes a lot of work to do the littlest things. But if you do, you learn a lot."
For more information regarding Pixiefest, go to pixiefest.com. Pixiefest is a collaborative effort led by Kiwanis Club of Lincoln City in partnership with Theatre West, Chinook Winds Casino Resort, Lincoln City Outlets and Farmers Insurance.
Career Tech High School is chartered through Community Services Consortium, the community action agency helping people in Linn, Benton, and Lincoln Counties. For more information go to www.careertech.us or www.communityservices.us.
---
Community Action Directors at 2017 National Community Action Foundation (NCAF) Conference
By:  Janet Merrell, Executive Director, CAPO
CAPO directors made a strong showing at the NCAF conference held in Washington, D.C. during the week of March 12, 2017.  David Bradley, Executive Director of NCAF, put on a powerful program and I'm happy we were all there to participate.
Renee Bruce, Executive Director of our Washington County agency attended, along with Program Director Katherine Galian and Board Chair, Richard M. Odell. Jeff Sargent, Executive Director of Yamhill Community Action (YCAP); Donna Bowman, Executive Director of Klamath Lake Community Action Services (KLCAS);Steve Manela, Director of Lane County Community Action programs; and Kelly Wessels, Chief Operating Officer, United Community Action Network (UCAN) of Douglas and Josephine counties attended and were able to actively participate in an exceptional program.
Jeff Sargent, Executive Director of Yamhill Community Action (YCAP) and Donna Bowman, Executive Director of Klamath Lake Community Action Services (KLCAS) in front of the Supreme Court
We had productive meetings with Senator Wyden's staff, Senator Merkley and his Chief of Staff, Matthew Traylor and Representative Suzanne Bonamici.  During our visit with Representative Bonamici, Susannah Morgan, Executive Director of the Oregon Food Bank, joined us.
We asked questions about the president's proposed budget and the healthcare replacement legislation developed by some members of Congress.  We were encouraged to remain optimistic.  We were encouraged to communicate members of Congress to express concerns and recommendations.  Reauthorization of CSBG, along with funding for LiHEAP and Weatherization were included in our discussions about the budget.
Special guest speakers at the conference included Senator Bernie Sanders and Representative John Lewis.  Senator Sanders reminded us of our responsibility to communicate with members of Congress about important issues (budget and healthcare) and to VOTE.  Representative Lewis emphasized that the president's current budget proposal is not right, fair or just.  He encouraged us to "Speak up, speak out, get in trouble and enjoy the struggle!"
On the last day, attendees heard from J.D. Vance, author of "Hillbilly Elegy."  Mr. Vance has been a guest on NPR and most of the late-night talk shows discussing his experience growing up in rural Kentucky and Ohio.  His book provides those of us who do not have that experience a better understanding of why families in rural communities feel discounted and ignored.
There was much more and it was all good. 
Contact our elected officials in Washington, D.C. today!
Congressional Senators for Oregon:
Congressional Representatives for Oregon:
---
Medford, Ore. — In 2015 ACCESS was awarded a 3 year, 6-million dollar federal grant for an SSVF program, or Supportive Services for Veteran Families. Since receiving it, over 600 homeless veterans in Jackson County have received housing help. But vacancy rates remain at historic lows, and that's leaving 100 veterans waiting for something to open up.
Patricio Espinosa served in the US  army in the 70's. The 40 years that followed have been a series of highs and lows ,battling PTSD and homelessness.
4 months ago that changed. Espinosa got connected with the SSVF program, and now has his own apartment.
But he knows there's others still waiting.
"There's an incredible shortness of housing," Patricio Espinosa says, "there isn't housing."
"We can only go so far," Laura Stevens of ACCESS says, "without affordable housing, and without landlords it's really tough."
Over 400 veterans are projected to be in need of housing this year alone, but there's very little availability for anyone in the rental market.
That's why ACCESS is looking for more landlords willing to consider vets as tenants.
Angela Brumana of Allcities Property Management has been coordinating with ACCESS for 2 years now. She says it's been a highly successful partnership.
"Rents paid on time, there's usually never any problems, inspections go fabulous they take care of their units, I very rarely have any sort of issue," Brumana says.
And while there's many landlords like her, they need more of them to have continued success for vets like Espinosa.
If you're a landlord and you're interested in getting on their list, call ACCESS at 541-774-4307. Even if your rental is full now, they would love to work with you in the future.
---
Huge Shout Out to Chief Lindsey!
---
Veterans Service Officer Guy McKay attended the regular meeting of the Harney County Court on Feb. 15 to present a quarterly report and discuss veterans programs.
McKay also updated the court regarding legislative action concerning veterans and veteran issues and provided copies of House Concurrent Resolution 6.
The resolution recognizes and honors Lance Cpl. Dale G. Peterson for his service. Peterson, who was raised in Burns, enlisted in the Marine Corps after graduating from Redmond High School in 2005. He was deployed to Iraq in March 2007 and killed in action April 23 of that year.
McKay also discussed veterans claims that have been granted.
Harney County Commissioner Patty Dorroh commended McKay for his work on behalf of veterans.
She reported that, over the course of nine years, McKay garnered $4,108,576 of monthly benefits and obtained $1,267,971 in retroactive benefits for veterans.
In addition to assisting veterans with compensation and pension claims, McKay administers education and training programs, federal home loan programs, Department of Veterans Affairs (VA) medical and life insurance applications, burial and memorial benefit programs, and military record searches and record retention. He also assists veterans with reading and understanding federal legislation, including the interpretation and implementation of new laws.
He's also a member of the Harney County Food Bank board, Harney County Emergency Management Steering Committee, and the Harney County Chapter of the Band of Brothers.
On top of that, McKay co-facilitates Living Well workshops with Harney District Hospital Outreach and Education Manager/ Nutrition Educator Amy Dobson. These free workshops assist veterans and community members who are living with chronic conditions, chronic pain, and chronic diabetes.
Addressing McKay, Dorroh said, "You may not know it, but I hear great things about your work and what you've done for people."
She added that McKay is also "a kind person who helps vets on his own, out of his own pocket."
Subsequently, McKay received a round of applause from the court and audience.
McKay was accompanied by Peggy Yarbor of Community in Action who attended the meeting to discuss the Supportive Services for Veteran Families (SSVF) program.
Through this program, the VA awards grants to private, nonprofit organizations and consumer cooperatives that can provide supportive services to very low-income veteran families living in or transitioning to permanent housing.
Yarbor reported that the VA awarded SSVF funding to Community Action Partnership of Oregon in April 2015 to serve homeless or at risk veterans, adding that the goal for Harney and Malheur counties is to serve a combined total of at least 12 veterans. Six veterans have been served in Harney County so far, and efforts to assist additional veterans are ongoing.
Yarbor said those who are interested in applying for assistance should begin by filling out a service request packet.
In addition to assisting with housing, the program connects veterans to services, including guidance from employment specialists. 
---
News from Robert Wood Johnson Foundation
2016 County Health Rankings from RWJF
The 2016 County Health Rankings are here! An easy-to-use snapshot of the health of nearly every county in the nation, the Rankings show that good health is shaped by jobs, housing, education, medical care, access to healthy foods, and more.
Explore your county's annual health snapshot > 
---
 Finishing the Job: Rescuing Homeless Vets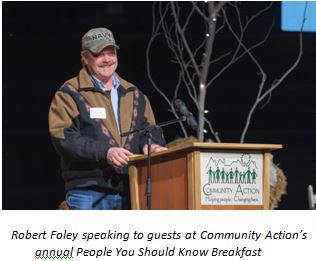 As the mother of a veteran, and having cared for veterans during my nursing career, my concern for the well-being of veterans is constant. That's why I hope that with Veterans Day behind us, we still recognize that we have much to do to serve our honored veterans, including the thousands who are homeless.
Robert Foley, a Navy veteran, was once one of those.
At 56, Robert still proudly wears a Navy cap with an American flag pin.  A humble man, he talked recently of how, after a painful divorce, unemployment and the emergence of a bipolar disorder, he became homeless in 2011.
One night he found himself sleeping fitfully, wrapped in two thin blankets on the cold, hard concrete floor of a friend's garage.  "Him having to see me homeless made it even harder," Robert said. " It was really hard being right there in my home town in front of my best friend and not being able to take care of myself."
At that point, Robert, who had served as a boiler technician in the Navy, was one of about 63,000 homeless veterans in the United States. Those veterans represented about 13.3 percent of all homeless adults, according to a report by the U.S. Department of Housing and Urban Development (HUD). The total number has since been declining, but much work remains to be done to truly bring them all home.
Moving through the hazardous, unfamiliar space of homelessness was challenging for Robert. "I lived on the streets, on peoples' porches, in their garages, in barns or wherever I could get shelter," he said. "When you're homeless, accessing even your basic necessities, such as a shower, a restroom, a place to eat, somewhere to stay dry and clean, is difficult and stressful, even more so if you have medical or mental health issues. It was basically about survival. You think each day it will get better, but it doesn't."
He tried to muffle the voices of the past, declining to offer too much detail about his ordeal because, he said, "It's too ugly".
Holding him back during his travails were comments by fellow street people that seeking succor would be a sign of weakness.  "One of the hardest things for me was reaching out for help when some people just said, 'Be a man'."
But he finally reached the end of his rope.
About a year and a half ago, he called the Veterans Administration's nationwide crisis number. Within 2 hours he got a call from the homeless veterans program at the Portland VA Medical Center. He got taken care of there first, then headed to the Salvation Army's Veterans and Family Center in Beaverton.
Robert arrived at the Center with nothing but the clothing he was wearing.
Working as a team, a multitude of organizations reached out to bring Robert back.
The Center, supported by VA dollars, Salvation Army funds, and supplementary private fundraising, is a comfortable, welcoming place that was formerly a retirement home. Robert had a rough transition at the start of his stay, but it provided him with much welcomed safety, shelter in a plain 18' X 25' room, three meals a day and clean clothes.
The Center helped him sign up for mental health classes and visits with a psychiatrist and primary care physician. Then, to help him stay on a positive path, he took a breathalyzer test for alcohol twice a day and random urinalysis tests for drugs.
Community Action of Washington County partnered with the Center by assigning a capable, caring caseworker to work closely with Robert and help him get back on track.  She got him enrolled in a free Rent Well education class that helps train prospective renters who are having difficulty being accepted for rental units.
"A lot of our folks have barriers to housing," said Rick Stoller, the Center's Director. "Some have a criminal history, bad rental history, evictions, a lot of things."
Community Action also gave Robert invaluable free bus passes, so he could make appointments and get around, and helped him find an apartment. "When I found an approved apartment, they went in, for my safety as well as the landlord's, to inspect the apartment to make sure everything was adequate, paid the deposits that were required and paid for my drivers license," he said.
After living at the Veterans Center for almost a year, Robert moved into his own apartment in Tigard, with his rent paid by HUD through the VA and his food covered by the federal Supplemental Nutrition Assistance Program (SNAP). He has no extra spending money, but somehow he's adjusted.
Robert continues to meet regularly with his Community Action caseworker to help deal with issues as they arise. "Having somebody to talk to that doesn't look down on you, that helps a lot," he said. "You feel comfortable. A lot of us don't open up. We just bury all our problems and that doesn't help at all."
He also stays connected with the Center, coming back frequently to visit people, assist with the collection and distribution of clothes, mow the lawn and do other chores.  "In giving help, it helps me," he said. "If I can give back a little bit and everybody else is giving back, it helps another vet," he said.
Robert's full of gratitude for all the people who've stood by him and optimistic about his future. "I just want to say thanks to everybody," he said. "Compared to a year and a half ago, this is tremendous. I'm ecstatic about life."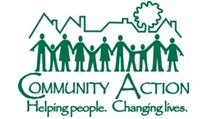 Submitted by William MacKenzie, Communications Consultant Community Action of Washington County
---
Congressional Staff Find 40 Minutes Of Being Poor In America Exhausting
Working in Congress might be hard – but being poor is so much harder.
That's the lesson several members of Congress and congressional staff members were able to learn in a poverty simulation held on Capitol Hill Tuesday, put together by Catholic Charities USA with the support of the Entergy Corporation. Catholic Charities has done these simulations elsewhere to give people insight into the total stress, confusion, and backbreaking toughness of being poor in America. With Congress responsible for dictating the legislation that can help, or hurt, poor and working families, this experience could not come at a better time.
At the start of the event, about 50 participants took on different identities and were told of their financial and familial circumstances before being thrust into the difficulties of life below the poverty line. During the course of each of four 10-minute "weeks," they were responsible for paying rent, buying food, taking the children to school, and either working full-time jobs or applying to them.
At various locations around the room, participants could find a grocery store and a school (which was inconveniently closed for the entirety of week three). They could also find a homeless shelter, a juvenile hall, a jail, a payday advance service and a pawn shop, places almost exclusively patronized by America's poor.
Emergency interruptions added to the realism, such as a "health and nutrition alert," which demanded better and more food for the family, or a "sick child alert," which required the participant to immediately pick up the child, represented by a baby doll, and provide childcare for the rest of the week. Often times, this meant losing a job.
Rep. Paul Tonko (D-N.Y.) role-played as Ned, who earned only $330 a month on disability payments after a stroke left half of his body paralyzed. He said the experience of being knowingly cheated at the pawn shop and callously treated by its manager was "dehumanizing."
Dealing with poverty's uncertainty and anxiety left all the participants visibly exhausted. When asked, "So, how do you feel?" at the completion of the event, there was an audible and collective groan throughout the room. When asked the follow-up question, "How many families bought food all 4 weeks?" about five people in a room of almost 50 raised their hands. But when asked, "How many families were not able to buy food any week?" almost every hand was raised.
But this was just a simulation. While participants seemed to gain an appreciation for the very real experiences that the 46.5 million Americans living in poverty endure every day, the situation was temporary. Ideally, the memory of it will be permanent.
Rep. Dan Kildee (D-Mich.) exclaimed at the end of his first week as unemployed Albert Aber, "Poor people are the hardest working people in America." As Congress continues to stall on minimum wage increases and paid family leave proposals, they will all do well to remember that.
Posted by Emily Divito for the Campaign for America's Future website: www.ourfuture.org 
http://ourfuture.org/20140716/congressional-staff-find-one-hour-of-being-poor-in-america-exhausting